Monday–Friday
7:30 a.m. to 6 p.m.
Appointments
651.430.2229
Poison Hotline
855.764.7661
Exceptional Veterinary Care
Rivertown Animal Hospital is the premier veterinary clinic in Stillwater, Minnesota, delivering comprehensive treatment and services to cats and dogs in the greater Twin Cities metro. We place a premium on patient safety, pain management and overall comfort.
Fear Free Certified Professionals
As veterinary professionals, we know that the stress and anxiety associated with taking a pet to the veterinarian is a significant reason why pets don't always receive the medical care they need. Fear Free℠ veterinary visits reduce feelings of stress, resulting in a better experience for all involved, including pets, owners and veterinary health care teams.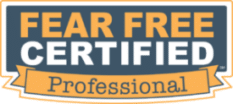 We love cats as much as you do – that's why we are a Gold-Certified Cat Friendly Practice, a certification earned from the American Association of Feline Practitioners by meeting their comprehensive performance criteria. Our staff uses cat-friendly handling techniques and is specially trained to care for cats.
Comprehensive, Full-Service Care
Rivertown Animal Hospital offers a full range of services to keep your pet healthy. Our goal is to create the best possible experience for you and your pet.
Dentistry
Comprehensive dental services, including cleanings, oral exams, x-rays, extractions and more.
Surgery
A full range of surgical services that follow the highest-quality care and anesthesia standards.
Wellness & Prevention
We work alongside you to catch problems early and keep your pet and healthy.
Diagnostic
Diagnostics, like lab services and radiology, ensure your pet receives proper care when facing health issues.
"None compare with the professional service and outstanding staff at Rivertown Animal Hospital."
TIM REHBERGER AND HIS DOGS, BUTLER AND BOSCO