Comprehensive Dental Services
Your pet's health care starts with you! At Rivertown Animal Hospital, we partner with you to keep your pet's dental health at the forefront of an overall preventative care program. Our comprehensive dental services include:
Professional dental cleaning with full oral exam
Digital dental x-rays to evaluate the 70% of the tooth that is below the gum line as well as the soft tissues around the teeth
Evaluation of all fractured and discolored teeth
Surgical extractions
Local anesthetic blocks for pain control
Enamel defects
Periodontal therapy
Rivertown is committed to providing exceptional dental care for your pet. The doctors performing dental procedures at Rivertown have received comprehensive hands-on training in veterinary dentistry, including diagnosis of dental disease, anesthesia, radiology, oral exams, pain management, periodontal management, and both simple and surgical tooth extractions.
Home dental care, including brushing teeth, is essential for a healthy mouth
Recognizing the need and benefits of regular professional examinations and cleaning
Bad breath
Red and inflamed gums
Dental calculus or discoloration
Fractured or chipped teeth
Reluctance to chew on toys
Drooling
Pain on oral exam
Weight loss
"Jill received excellent care at Rivertown Animal Hospital when she had her teeth cleaned. She actually seemed pretty happy when I picked her up, for a cat that usually hates to go to the vet."
Keep Your Pet Healthy & Pain Free
Periodontal disease is the most common clinical condition occurring in adult dogs and cats, and is entirely preventable. Some facts about your pet's teeth and gums:
Periodontal disease can cause bacteria to spread through the bloodstream, negatively affecting the heart, liver and kidneys
Prevention includes regular dental exams, home oral care starting at a young age and regular professional cleanings
Treatment of existing dental disease requires dental x-rays, general anesthesia and appropriate therapy
Signs of dental disease include bad breath, brown or discolored teeth, loose teeth, red gums, salivation, pain with chewing and weight loss
Owners often never look under the lip to see the condition of their pet's mouth, resulting in progression of dental disease and a painful mouth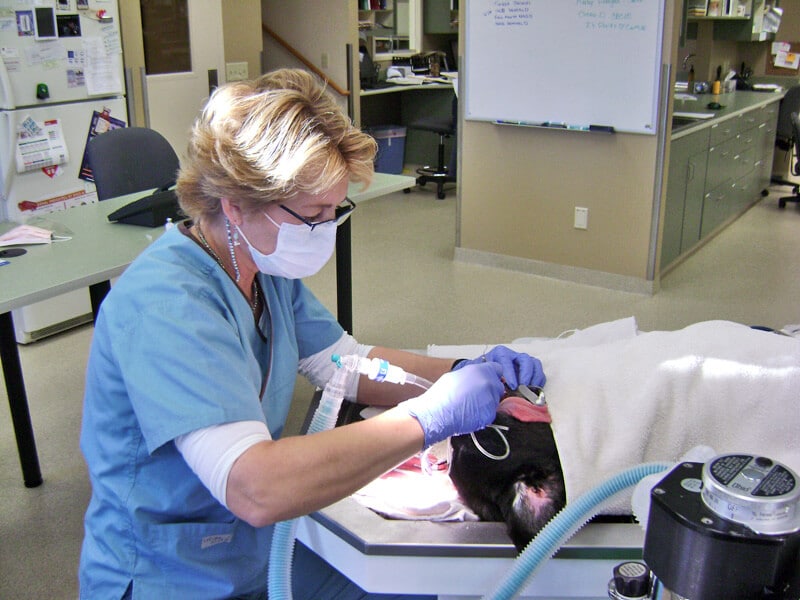 Our commitment to a Fear Free Practice extends to our dental procedures, which are performed through a Fear Free* approach and include comprehensive screening to ensure your pet does not have any medical issues that may prevent a successful procedure. We strive to reduce pain and anxiety during all of our patient interactions.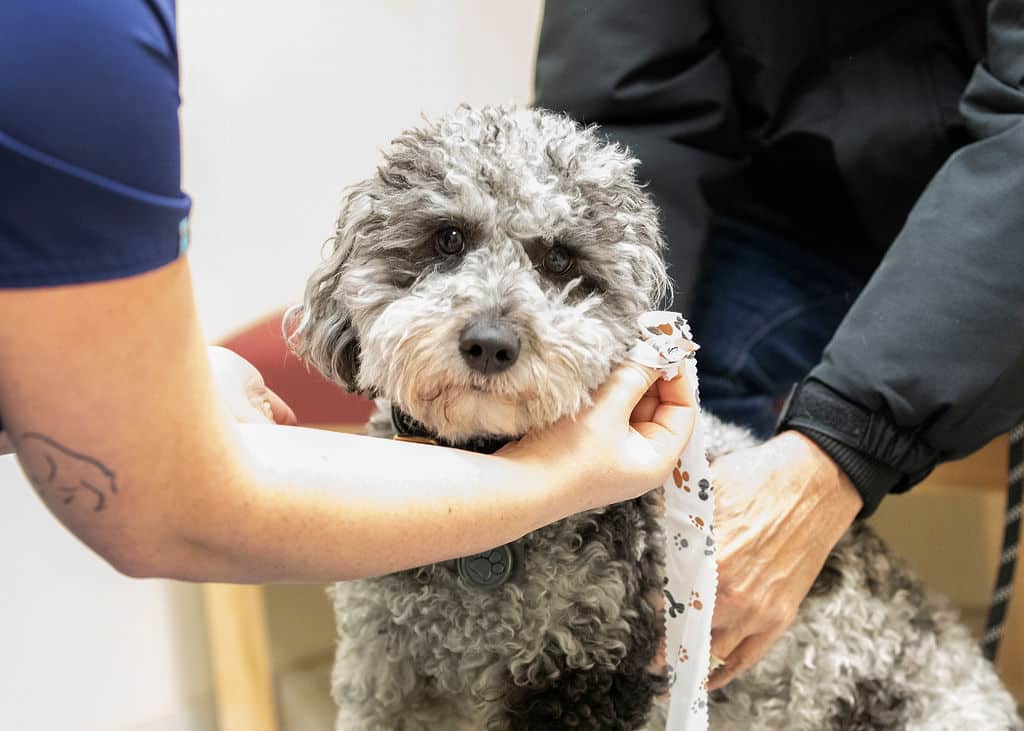 All pets receive a preanesthetic health evaluation and blood panel
Full anesthesia with state-of-the-art patient monitoring; IV fluids are warmed for comfort and your pet is covered by a Bair Hugger throughout the procedure to ensure your pet is warm and comfortable
Multimodal pain management, including local pain blocks and pain medications, to keep your pet comfortable before and after the procedure
Each professional dental cleaning includes an oral exam while the patient is sedated and "before and after" full mouth digital dental radiographs
Pets requiring surgical extractions have post operative radiographs to confirm no roots are left behind, and laser therapy is administered at the end of the procedure to provide faster healing and additional pain control
Discharge with a veterinary technician providing instructions for after care with written instructions also provided
A recheck is scheduled 10 to 14 days after the procedure for a final exam to answer your questions and provide guidance for continued dental care